A Unique and Inspiring Story
Graham didn't come from fashionable beginnings, growing up in South London only a few miles from the heart of the Capital, but light years away from it in style and attitude. His mother told everybody he was the healthiest baby around. But the truth was he had an undiagnosed case of Spina Bifida, which made childhood a special kind of torture.Dreaming that he might one day have a girlfriend, become a Dad, have a career, and play in a rock band as a drummer. The reality was dreadful days spent dealing with incontinence and private shame.
School was an ordeal. At 15 his school teachers pronounced him bone idle and were more than happy to see him leave. He'll show you his final report card during his speech. A crushing confidence blow for a boy living with disability.
When leaving school Graham sent out 62 job application letters for sales jobs and upon receiving 62 rejections – he joined a barbers as an apprentice. The rest, as they say, is history.
Not forgetting his brief stint as Britain's top rice pudding salesman (for Ambrosia)…yes his story really is that surreal!
By his early thirties Graham owned a fast growing business and a chance meeting with a surgeon led to a revolutionised life. And as his health improved, so did his business.
In 2002 he sold his product range to Wella. It was no.4 in America at the time, thanks in part to pulling off highly innovative marketing stunts that included events in the then Soviet Union. With 'Back in the USSR' blasting out of a sports car for the USA Graham Webb products launch – the filming was a feat that saw him as a guest on 27 US talk shows.
2003 saw Procter & Gamble acquire Wella with Graham's brand included. Graham then became the P&G goodwill ambassador for seven years. Giving him a unique perspective of someone who has worked both within a multi-national company and built an entrepreneurial business from the ground up.
The global corporate world may not have suited his fleet of foot and entrepreneurial spirit but it left him with some interesting tales.
In 2005, he was honored with an MBE at Buckingham Palace for his services to business and charity work in Kent.
And the future looks similarly bright as new doors continue to open for Graham in the world of professional speaking.
Graham Webb – Professional Speaker
Today Graham is a recognised motivational speaker and acclaimed author. His empowering talk 'Winning Ways – It CAN be Done!' has been delivered worldwide and his inspirational autobiography Out Of The Bottle is in its sixth edition.
His story continues to capture the imagination of readers and audiences alike.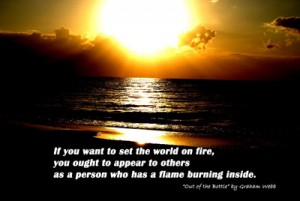 Family
Though if you were to ask Graham what his greatest success in life has been, he would surely tell you: it is being a happily married man, and father to four lovely children.
His dream really did come true, despite being told by neurosurgeons he and his wife, Mandy, may never have a child.
Today his boys, Rod and Brad, are both drummers. Rod plays in bands as a freelancer and is also a French and Spanish Teacher in a top UK school. Bradley is a full time professional www.bradwebbmusic.com touring with Jamie Cullum, Mika, Blue Man Group – to name just a few.
His talented daughters, Charley and Hattie, are song-writers and performers. They have recorded with Sting, are the 'angels' singing with Leonard Cohen in all his World Tour concerts, and playing their own Webb Sisters concerts internationally. You can see and hear them at http://thewebbsisters.com and find them on Facebook as The Webb Sisters
What Next?
To discover more about Graham's incredible life, book him as a speaker at your next event or download a copy of his inspiring autobiography on iTunes / iBooks or to your Kindle / e-reader today.